Card Scan to Medisoft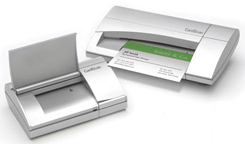 Card Scan with its amazing versatility!
Click Here to contact us about this product.

Card Scan to Medisoft
Processes scan images through most scanners that have a twain interface (compatible scanners purchased additional).
Scanned images show up in the Medisoft Case Multimedia tab "Medisoft Professional" for viewing and printing.
Graphic sizes or quality can be adjusted to conserve disk space.
Medisoft disk space calculator can show you how much projected disk space you will use to store images.
Insurance cards or documents can be scan before a patient is created in Medisoft.
This feature is unique to DataBits Software Inc.
Card Scan's integrated patient lookup makes putting scanned images in to a patients account and case a snap.
Software upgrades happen are automatic minimizing IT time for upgrades.
Scanned image can be purged. Graphics take up more storage than regular data.
Card Scan has an administrator feature to let you purge older scanned images to recover data space.
Price: $999.00*
Card Scan to Medisoft sells for $999.00* (*scanner not included).
Discounts for additional scanners in the same office.
Would you like to become a dealer? Give us a call or email.
Works with Medisoft professional version 10 through 23.
Card Scan is yet to be released.
Please Contact Me to be put on the early release list and get a discount.