EZ-Notes to Medisoft Data Interface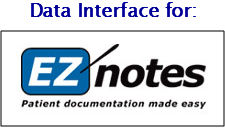 This is an independent program interface that communicates with both
EZ-Notes and your other Practice software (Medisoft, Lytec, HandyWorks).
Click Here to contact us about this product.
Price: $749.00

This is how our EZ-Notes and Medisoft bi-directional data exchange interface works:
When billing charges are generated in EZ-Notes and you click the 'Send to DataBits' button, the billing charges are then integrated into your Medisoft program ready for claim processing.
When a new patient profile or a new case for an existing patient is created in Medisoft, the demographics information is sent to EZ-Notes.
EZ-Notes to Medisoft Features:
Real time data processing for patient and charge data between EZ-Notes and Medisoft
Single patient export
Mass export of patients by any date range, you decide
EZ-Notes to Medisoft supports multiple Medisoft data sets
Audit trail of all of EZ-Notes to Medisoft's activities by reports
Provider conversion table to convert EZ-Notes provider codes to the Medisoft provider code
For charges, there is an automatic processing mode or semi-automatic mode
The semi-automatic mode lets you match charges to patient's and cases
Automatic update by clicking a button (internet connection is required of this function)
Purge history function to reduce database size of old outdated data
Remote support for installation and support
Beep notifications on data transfers
Auto monitoring on start-up lets you start the program and the rest is automatic
Adjust the monitoring intervals for real time or delay time processing
Six months free support with purchase of EZ-Notes to Medisoft
Program Requirements for EZ-Notes to Medisoft Data Interface:
Windows XP, Windows Vista and Windows 7
Medisoft Version 10 to 24
EZ-Notes Version 10.20 and greater
Price: $749.00
Included with this purchase package:
EZ-Notes to Medisoft Data Interface program
6 months of free support.
Personalized Support for integration of this program that takes about 1 to 2 hours.
Demonstration of EZ-Notes to Medisoft Data Interface:
Testimonials for EZ-Notes to Medisoft Data Interface:
After 26 years in practice, our office has decided to computerize. We have been using Medisoft for years and now we have found our note taking system in EZ-Notes. But we had no way to link the two systems. That is until we found DataBits Software. Cost efficient, easy to use and very helpful and knowledgeable support. Now our office runs like a dream. I highly recommend DataBits Software to anyone who wants the Doctors to talk to the front desk with a click of a button.

Respectfully Submitted,
Thomas J. Ebalo, D.C.