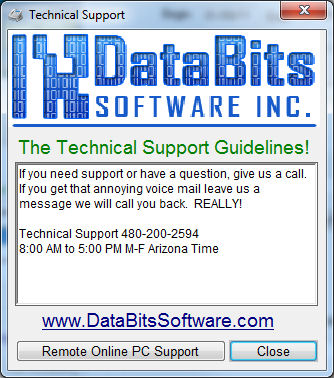 Support
Support for DataBits Software Inc. products is defined under the technical support menu. Support levels and hours vary depending on dealer policies and products.
---
All support services are fee-based without a maintenance agreement.
Having a support plan in place with DataBits Software, Inc. keeps you prepared when you need help.
Telephone Support Services for Chart Talk to Medisoft Interface
DataBits Software, Inc. experts are as close as your telephone.
Telephone support is offered from 8:00 a.m. until 5:00 p.m., Monday through Friday, Mountain Standard time.
Arizona does not observe Daylight Saving Time.
For telephone technical support, call (480) 200-2594
Support Charges for Medical Software Interfaces
First 180 Days after purchase - Telephone technical support is provided at no charge
If your maintenance agreement is current, telephone support is provided at no charge
Without a support agreement - Per incident charge - $99 per incident
1-year Software Maintenance Plan with unlimited telephone support, free updates by download and substantial discounts on additional product purchases - $149 ($129 if purchased before the expiration of a current free or 1-year plan)
Expired maintenance agreements within the current year will be backdated to the original expiration date
Medical interfaces requiring the use of cloud servers, require that you have a current maintenance agreement
New versions of software with support agreements expired for more than one year will require an upgrade price based on the current rate with 6-months free of support
What Services are Offered with Telephone Technical Support?
Assistance with troubleshooting software problems
Information on the use of software features
DataBits Software, Inc. telephone technical support service does not include computer hardware, operating system and network support. Questions for these components should be referred to the support services of each respective system provider.